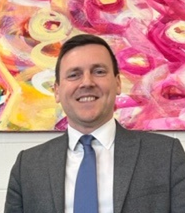 A new Chief Executive has been appointed at Mater Ecclesiae Catholic Multi Academy. The Trust, which currently includes its 7 founding schools, serves the Catholic education community in Preston.
Peter Duffy, who is currently in his second headship at Notre Dame Catholic College in Liverpool, will take up the role of Chief Executive of the Trust in September 2023. The Trust was established in December 2022 and is set to grow over the next 3 years to include all 23 Catholic schools in the wider Preston area. Mater Ecclesiae is one of 3 Trusts established within the Diocese of Lancaster in accordance with Bishop Paul Swarbrick's vision for the future development of Catholic education.
Peter will take over the leadership of the Trust from Mia Barlow, Headteacher at St Bernard's Catholic Primary School, who has been in the post in an interim capacity. Her outstanding work in establishing the Trust mean that Peter has a strong foundation on which to implement the growth plan which will see the remaining Catholic schools in Preston joining in phases over the coming years.
Peter, who brings almost 20 years of senior leadership experience to the role, said: "I am absolutely delighted to be taking up the post of CEO at Mater Ecclesiae. This is an exciting time in the development of the Trust, and I am looking forward to working with our dedicated staff to provide the highest possible standards of learning and development for all our pupils."
Roger Mason, Chair of the Trust commented: "We are thrilled that after a rigorous recruitment process, Peter has been appointed to the post of CEO. He brings a wealth of experience and has a vision for how the Trust can play a significant role in serving the children of Preston and their families. We are all looking forward to working with him and wish him all the best in his new role".